As We Grow Activity Kit
Understanding what is happening in our bodies in puberty is such an important part of growing up. However, helping kids understand all the physical and emotional changes, and the new health concerns that come with puberty can sometimes be an awkward and uncomfortable experience for both students and teachers.
As We Grow is a fun and interactive health activity that helps teachers share with their students all the physical, emotional and sexual transitions they are going through or can expect. Through all the giggles, they will learn about their own bodies and the bodies of their peers.
This kit is designed for an average classroom size of 30 students but can be modified to larger or smaller groups.
Included: 2 body posters (boy and girl), 39 Changes cards, an instructor answer key.
Concept: Students receive Changes cards, choose if boys, girls, or both will go through the change, and place it among the posters for the class to see. This creates an engaged, friendly discussion around what they can expect during puberty.
Duration: 15-30 minutes
Level: Grades 4-6 or 9 to 12 years old
Available In French By Catalogue/ Disponible En Francais dans le Catalogue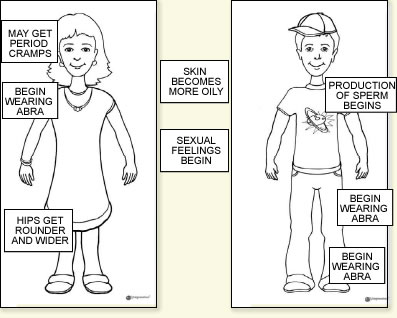 All playing pieces in kit are laminated so the game can be enjoyed by students over and over again.
Price: $125.00
ADD TO CART