The Decision
Classroom DVD
Teens talking about their attitudes and concerns about
having sex for the first time.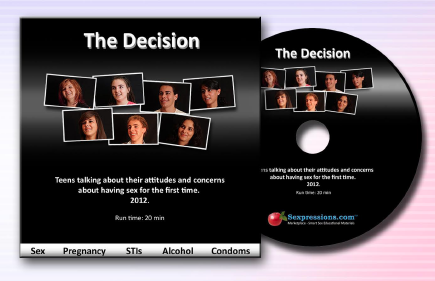 Every 10 minutes a teen girl gets pregnant.
Around the world, every minute 10 people are infected with HIV.
At least half of them are under the age of 25.
There are many choices to make in life. This teaching resource video explores how teens are dealing with some of the most difficult ones. This video will help students start to discuss the decisions involved in having sex for the first time, including birth control, condoms, abuse, consent, sexually transmitted infections (STIs, previously known as STDs), and more. Discussion questions for instructors are also included. The video is fast paced, with quick interview clips.
Music by DJ Jelo.
Run time: 20 min.
Produced in 2012.
Price: $65.00
ADD TO CART