Social Signals-- Mike's Crush
By: Nancy Nowell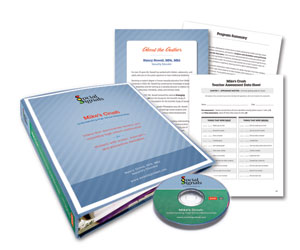 Peer and romantic relationship skills for adolescents who are on the autism spectrum or have intellectual disabilities can be especially difficult.
Most high school students have crushes; but how they are acted upon can be the difference between a budding romance, an embarrassing situation, sexual harassment, or even stalking charges. Students with Asperger's Syndrome, autism, or other developmental disabilities want to be like everybody else; they want to have friends to hang out with, including boyfriends and girlfriends. Many students who have disabilities demonstrate poor relationship and romantic relationship skills.


Mike's Crush Curriculum includes:


A "Bad Day" video with easy-to-identify incorrect behaviour if you have a crush.
A "Good Day" video that demonstrates healthy ways to handle having a "crush".
Video Self Modeling (VSM) lessons.
Visual models for all 8 lessons.
A detailed 100+ page adaptable curriculum of teacher-tested lessons.
Lessons that are designed to be fun and engaging for students with a wide range of abilities.
Lessons that teach reading both positive and negative responses in a romantic situation
Price: $165.00
ADD TO CART

Mike's Crush Trailer from Social Signals LLC on Vimeo.
Mike's Crush - Relationships (Sample Lesson) from Social Signals LLC on Vimeo.