Sexual Health Trivia DVD Games - Full Set
Every student should receive sex education in a comprehensive and fun way!
The Sexpressions DVD Games will offer accurate sexual health information in an interactive DVD format to be played in the classroom as a group or individually. Created by Montreal's AASECT certified sex educator and national trainer Stephanie Mitelman, the games are designed with both students and teachers in mind.
Using multiple choice, true-and-false, fill in the blank, and labeling questions, the games cover a long list of subjects including sexual health, birth control, condoms, relationships, abuse, consent, puberty, conception, pregnancy, and male and female anatomy. The set includes the following DVDs: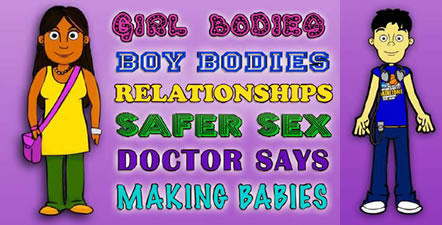 The interactive characters will narrate the game so it is not only informative, but fun to play! With over 100 questions per subject, this game can be played over and over again!
Recommended target level: grades 7 to 11
Available In French By Catalogue/ Disponible En Francais dans le Catalogue
Price: $325.00
ADD TO CART

Click here to play a sample of the Trivia game