Relationships Trivia DVD Game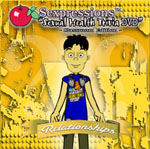 This is an original Sexpressions production!
This DVD looks at issues of healthy relationships. Topics such as dating, having sex for the first time, homosexual relationships and sexual abuse are covered.
Narrated by a teen boy character, this game offers trivia questions, true and false, fill in the blank and graphically designed diagrams. Over 100 trivia questions, cycling randomly between true and false, multiple choice, fill in the blank, and labeling prompts.

Students will love playing this game and learn while they do!
Can be played as a group or competitively.
The DVD also offers additional information about condoms and sexual health in its menu.
Grades 8-12.
©2007.
Available In French By Catalogue/ Disponible En Francais dans le Catalogue
Click here to play a sample of the Trivia game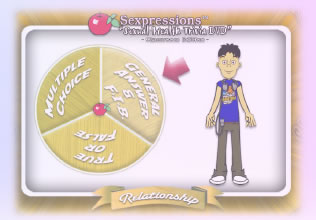 Price: $65.00
ADD TO CART