Changes Changes Changes: Great Methods for Puberty Education

Editor-in-Chief Stephanie Mitelman, Associate Editors Susan Milstein and Amanda Saxe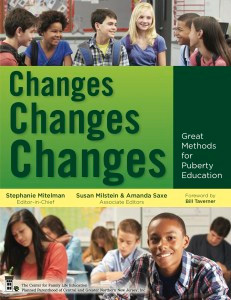 Changes, Changes, Changes is an up-to-date expansion of the classic New Methods for Puberty Education. This new edition features 9 chapters with more than 40 engaging and informative lesson activities. Topics range from emotional and physical puberty changes, to problem-solving and social situations, to dealing with homophobia, to social media safety. Comprehensive educator instructions are given to help create a safe and inclusive classroom environment where student participation and fun are given as much importance as the critical lessons being taught.
"This is the most thorough guide I have ever seen! It goes far beyond classical puberty education and explores friendships, love and respect of self and others. The group exercises are straightforward and clear so that any educator can adapt them. I would love to see this adapted for use by parents with their kids. Bravo!"
Laurie Betito, PhD
Psychologist and Sex Therapist
CHANGES, CHANGES, CHANGES is engaging, very creative, and extraordinarily respectful of young people during this critical period in their lives. Another important publication from the Center for Family Life Education!"
~Michael Carrera, EdD
The Children's Aid Society
"Without a doubt, this up-to-date, comprehensive, age-appropriate, and honest guide is a "must-have" resource for educators—providing the very tools kids need in today's fast-changing times to make responsible and informed decisions as they navigate the normal, but sometimes difficult, up-and-downs of puberty."
~Robie H. Harris
Author, IT'S PERFECTLY NORMAL, Changing Bodies, Growing up, Sex, and Sexual Health
"CHANGES, CHANGES, CHANGES is an absolute treasure trove of activities to help young people figure their way through the tough issues they face for becoming healthy sexual beings in today's world. Particularly impactful is the respectful and normative way that gender and sexual orientation diversity are addressed throughout the manual, and not just in lessons devoted to this complex content."
~ Bernice Humphrey
Girls, Inc.
"Early sexuality education that includes puberty is vital to a child's healthy growth and development. CHANGES, CHANGES, CHANGES offers a complete, inclusive approach to sex ed that is packed with amazing hands-on activities and practical hints for educators. Dynamite!"
~ Dr. Mary Jo Podgurski
Academy for Adolescent Health
Price: $69.00
ADD TO CART