Space Invaders: A Game About Boundaries By: Toni Cavanaugh Johnson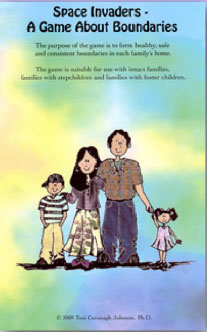 Space Invaders - A Game About Boundaries has a very wide audience as many families have difficulties with boundaries. This game provides a fun way for families to work on the boundaries in their home. The game does not require a therapist to play. However, if a family is in therapy and boundaries are an issue, the game gives the therapist good insight into the family dynamics and will help the therapist define consistent, healthy boundaries.
There are two sets of 80 brightly colored cards. The game is easy to learn and fun to play. It can be played like "Concentration" or "Go Fish" so the whole family will enjoy playing it together!
You will note that the game is also good for special populations such as those where some participants have developmental disabilities that may make it difficult to understand the boundaries of others, such as autism, or in homes where sexual abuse has occurred. There are special instructions in the package for using the game when there have been emotional, physical or sexual boundary violations in the home. This game is also very useful when there have been allegations of sexual abuse but it is unclear if it happened.
Besides using the game with families, therapists use it in group treatment for sexual abuse victims, children with sexual behavior problems, and adolescents with sexually abusive behaviors. The game helps players understand the issues in their homes regarding emotional, physical and sexual boundaries.
Price: $22.00
ADD TO CART